2017 Quick links: August 11, 12 & 13
Admission:

Friday $7
Saturday $10
Sunday $7
Weekend pass $20
12 and under accompanied by an adult - free

2017 Wall of Sound: Bridgewater's Stereo Competitions!

Sunday, August 13 - 11am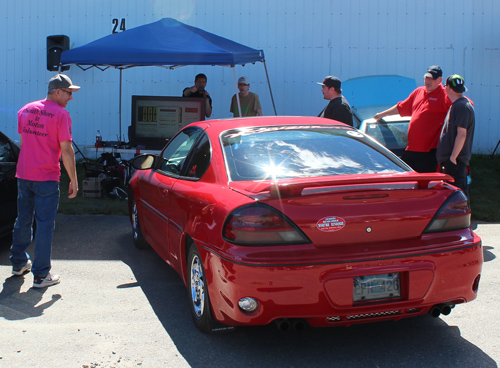 Event #1: dB Drag Racing is an auto sound competition format where competitors compete against one another to see who has the loudest car stereo system. This is the fundamental basis for a dB Drag Racing event.
When the SPL metering process begins, contestants will have 30 seconds to achieve their highest Sound Pressure Level (SPL). The SPL metering equipment will record and save each competitor's high score during this 30 second judging interval.
Competitors are classified by the nature of the components in their sound system and the extent to which their vehicle has been modified.
Classes for dB Drag: (At the event classes will be explained in more detail if needed)
Street Stock 500 RMS
Street Stock 1000 RMS
Street Stock 2000 RMS
Street Stock 5000 RMS
Street Stock No Limit on RMS wattage
Street Trunk 5K
Super Street NW
Super Street 1-2
Super Street 3-4
Super Street 5+
Extreme 5000 RMS
Extreme No Limit on RMS wattage
Stereo competitions! - Event #2: dB Bass Race Competition is an auto sound competition format based on contestant skill and Sound Pressure Level (SPL). In Bass Race, contestants first participate in a qualification process where each participant's SPL is measured. Contestants with similar scores are then grouped together for the elimination portion of the competition. During the elimination rounds, contestants face off in a head-to-head format.
The objective is to have the loudest AVERAGE score while playing music without "breaking out" of the class they originally qualified in. This is the fundamental basis for a Bass Race event.
During qualifying, each contestant's sound system is measured with a Term-LAB SPL meter. This meter measures the average SPL of the contestant's sound system in dB over a period of 30 seconds. At the end of the 30 second measurement period, the contestant will be placed into one of four Bass Race classes based upon the contestant's score.
The classes are:
120.0 dB to 129.9 dB
130.0 dB to 139.9 dB
140.0 dB to 149.9 dB
150.0 dB to 159.9 dB
More information on how this event works will be explained and also there will be people to help if any questions.
Stereo competitions! - Event #3: dB Port Wars This event if you have a ported sub box in the car we hold the SPL meter in or by the port to get the loudest reading possible out of each system that enters this event.
Cost to enter each event is:
dB Drag Racing Competition $10
Bass Race Competition $10
Port Wars $5
back to events
"Turning engines, wheels & heads since 2004!"